I want to show you the process we go through to create this simple but elegant door post accent piece. The material is cherry, and the blanks where prepared by Al Frost of Frost Cabinet Works. I have recently started working with AL on a few projects. He is very detail oriented, and always comes prepared. It's a pleasure to work with Al and I hope to develop a good working relationship in the future.
Back to the carving. The model for the top carving detail is the same one we used for the hutch that Al recently completed for one of his clients. It has very nice lines, and we adjusted the size and depth of the model in Vectric's Aspire CAD/CAM program. Since the client will be painting this trim, we gave it a slightly deeper dish to make sure that the detail would not be lost when painted.
There is no exact formula for the process of carving these details. I have a work flow that I usually follow, and it's very close to the same every time. Here is how I did it.
The first thing I did was to create a fixture plate. I took a piece of 3/4″ plywood, and drilled holes for "T" nuts so I could use strap clamps to hold down the part. I drilled 5MM dowel holes in the machines waste board the correspond to the 5mm dowel holes  I made in the fixture plate. I used simple screws to hold down the fixture board. I then Skimmed an flat area  big enough to set the blank on to. I them created primary and secondary alignment holes(this is just a  set of 4 dowels to create a 90 deg angle.
I clamped the blank down, and used an edge finder to locate both centre lines. These centre lines correspond to the centre lines in my CAD/CAM data.  All the required tools where installed into my tool changer, and I preset all the tool lengths.
Now I am ready to set up the spindle.
This is the first step to setting up the spindle. I use a master tool, in this case a .250 steel ball to set my master tool height. You don't have to have a special ball, you can can use an end mill if you choose. If you choose to use a end mill or other tool, if it breaks, you may have to reset all of the other tools again. This method of having a master tool to set heights  allows me quicker changes for tools and lets me switch quickly from a manual tool change to a carousel mounted tool change.
I use a piece of cigarette paper to act as a shim when touching the surface. This is just out of habit from working in the metal machining trade for so many years. The papers are inexpensive and will not damage the tool or material you are working with.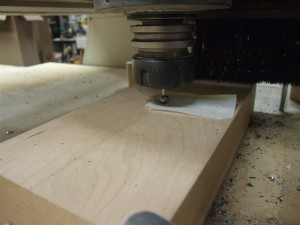 Here I am setting the "Z" zero plane at the top of the work piece.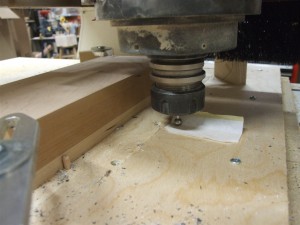 I now set the "Z" Bottom using the same shim.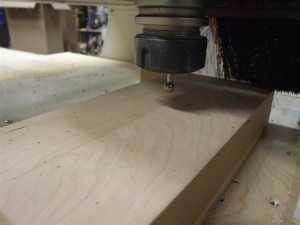 I now set the "Z" top position(this is commonly refereed to as a "clearance plane"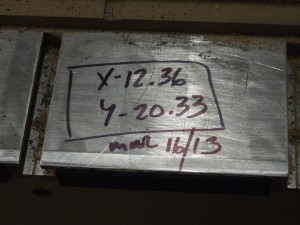 I now record the machine "Home" position. I do this just in case something moves, or if I have a power outage. It saves allot of grief later on.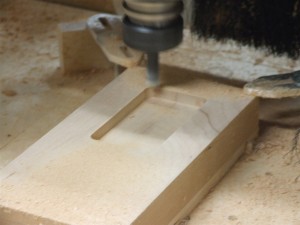 Here we have the first roughing pass. I have used a 1/2″ diameter 2 flute, centre cutting end mill to do the initial clearing out of material. I could have easily used a ball cutter, but I like to get rid of the material as fast and cleanly as possible, and this tool does the job. I left a little material on the bottom of this pocket because I like to take a thin pass and I don't want any cutter deflection.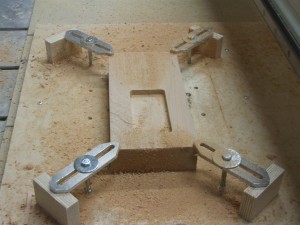 This is just to show the nice clean cutting that you can get with the correct cutter selection and tool speed and feed.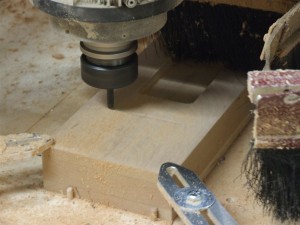 Here is the beginning  of the 3 Dimensional roughing pass. I am using a .250″ diameter ball end mill. This is just for roughing, so I have an aggressive feed rate and step over. It is important that you have a sharp cutter when using any tool, but especially when using ball end mills of any type. You do not want to run the spindle at too high of an RPM. This creates heat, and you may experience burning at the corners or on the bottom where the may be a slight dwell in the feed rate. Heat has always been the number one problem with premature tool edge wear. Consult your speed and feed charts, and make sure you have the correct material designation.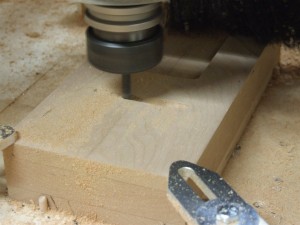 Another shot of the roughing.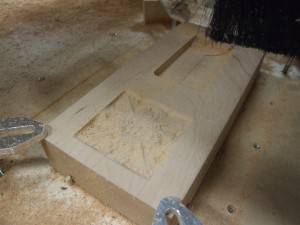 Here shows the top carving roughed out. A nice clean cut with no signs of burning.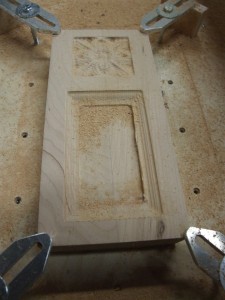 The top and bottom areas roughed out.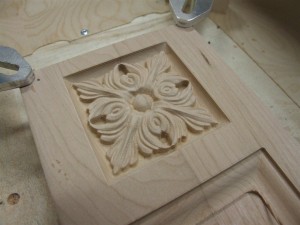 Here we see the result of the finish passes. I used a .125″ ball cutter and a .062″ ball cutter to detail teh carving. The .125″ ball was cutt with a .030″ side step, and the .062″ ball with a .010″ side step. This leaves a finish that does not require any sanding. I was disapointed that the recent upgrade to Vectric's "Aspire" did not include "Rest" machining or "Pencil pass" machining. Maybe next time guys! Still a great software package, and I highly recommend it.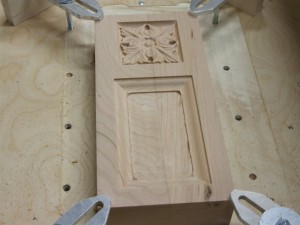 Here is a better shot of the carving areas finished. Note that we still have to clean out the corner radius left by the .5″ end mill.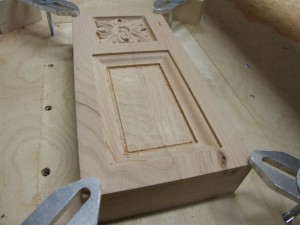 Here is a shot of the .125″end mil pass. It does a great job of sharpening things up.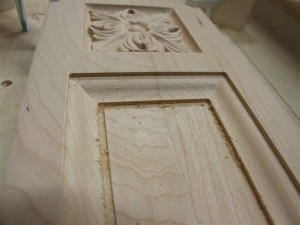 Here is a close up of the last shot.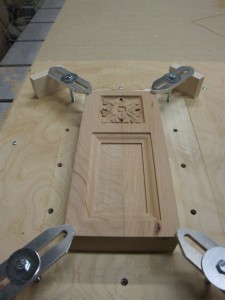 Here I have gone back to the original .5″end mill and cleans up the bottom.
UPDATE: I ran a time study, and decided to move the final pass on the bottom detail, to immediately follow the roughing  pass. I was a little worried about tool deflection, but found little or none. Changing the cutting order eliminated  a tool change and saved some time.
Here is the finished carving. There is very little hand sanding to be done(some minor "fuzzies" leftover, but it took no more than 10 seconds to clean that up by hand.
As with any project of this type, there are many ways and tools that can be used to get to the end result. If you know of any new tools, or if you want to know where I purchased these cutting tools, drop me an e-mail at John@jmurphycnc.ca and I be happy to send you the information.
Thanks for checking out my site!